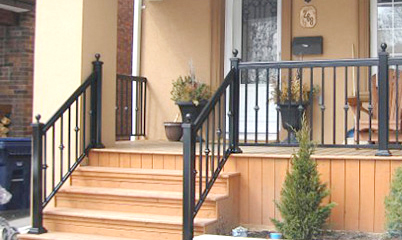 Choosing a company for your next home renovation project is among the most important decisions you will make, as a homeowner. Amazon Railings and home improvement services ensures that your decision is made easier.
Amazon Railings provide customers with a prompt reliable estimate, detailed design schematics and a project plan. We deliver exceptional professionalism every step of the way. Our thoroughly trained and fully knowledgeable representatives, will present you with a vast array of product samples from that represent our warehouse offerings for aluminium railings, fences, and gates.
Our highly customize approach offers you a great selection of products. We assist  customers in choosing the right products for their home improvement project. We have a wide selection of products, including: handrails and pickets. We have a beautiful and detailed catalogue that contains various style options and contains many  color options for our products, to best enhance your property.
Our fences, gates and railings are all made of aluminum. They are fully rustproofed. We offer a 2 year warranty on labor and a 15 year warranty on the overall project.
Our catalogue is available online in our Gallery. Our sales representatives carry samples. There are no appointments at our office. All assessments are completed onsite to ensure accurate pricing of each job, based on the unique needs of each customer and in accordance with the surface / area for product installation.
We currently feature railings, fences and gates in a wide array of  of unique configurations, styles and colors. Our Railings, Fences & Gates can be accessorized with collars and rings; large / small scrolls and crowning finials.
The Benefits
Benefit from highly quality Aluminum Railings, Fences and Gates, which are an attractive and affordable alternative to wood or wrought iron.
No rusting of aluminum railings
No rotting of aluminum railings, as would be the case with wood railings
No cracking or breaking of railings, as would be situation with plastic or polymer railings
Homeowners want to purchase a product that does not rust, rot or need to be painted every other year.
Our beautiful railings offer great style and design to enrich your home.
Our products are the ideal combination of strength, style and beauty while being 100% 

recyclable.

Exceptional personalized and custom tailored client service
Customer driven results.
Work completed according to the highest industry standards.
Work completed by an accredited supplier of quality products.
Work done by a member in good standing.
Employ local workers and contribute to the building of your community, while you enhance the exterior of your house.
Work done by a highly ranked HomeStars vendor.
Intake can be completed in multiple languages, just let us know your language preference and we will do our best to provide a customer specialist in your chosen language.
Amazon Aluminum, Railings & Fences meets and exceeds:
Ontario Building Codes.
National Building Codes of Canada.
BCIN compliant with Building Code Identification Numbers

 as determined by the Ontario Ministry of Municipal Affairs and Housing.

Compliant with International Building Codes and global renovation standards.